Emergency roof repair in Omaha can stem from many different damaging situations, but an excessive amount of snow or hail damage in Omaha is a regular culprit. Contractor roofing in Omaha is called upon endlessly throughout the annual year, but roof repair in Omaha caused by snow is a common request. From snow to storm damage in Omaha, here are some of the dangers of snow on your new roof in Omaha.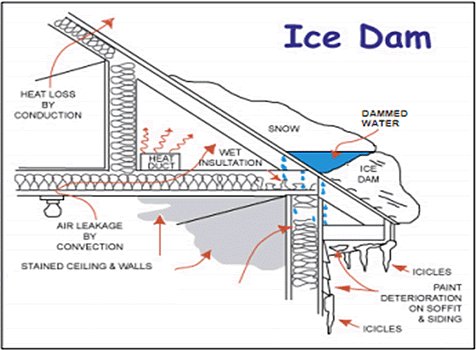 Ice Dams
Ice dams are formed in cold weather while snow rests on your roof. When the heat from your attic rises and melts the layer of snow touching your roof, it begins to drain down toward the edges of your roof underneath the layer, often layers, of snow overtop that the heat didn't affect. When the water drains down to the edge of your roof where there is an absence of heat, it refreezes, covering your drainage system, and causing an ice dam. Commercial roofing contractors in Omaha see this frequently.
When ice dams continue to form over and over again, they grow and expand to a point where it holds a pool of water back onto your roof, not allowing it flow naturally down through your gutters and drainage systems. The growth of ice dams can force that pooled water underneath your roof's shingles, and into your home causing water damage and a potentially costly leak.
How To Avoid Ice Dams
Clearing your roof of snow, especially around your roof's edges, is a great way to avoid ice dams from forming. And if they have already been established, this cleaning process will double as an impromptu roof inspection. Use a rake, ideally with wheels on it, to remove the snow from your roof. Do this from the ground level, as to not put yourself in danger by standing on a snow-covered, slippery rooftop.

Hire a roofer in Omaha to remove the snow from your roof. They will have the right expertise and equipment to do this task safely and effectively.
Use heating cables on your roof's eaves, gutters, and downspouts to ensure that all pooling water and melting snow drains away from your home as intended.