If you own a commercial building, there is one thing you know for sure; if your roof leaks, you're renters and tenants will let you know!  Whether its due to age, hail damage in Omaha, or storm damage in Omaha, roof repair in Omaha is something that every commercial building owner will have to deal with.  Building a strong relationship with the best roofers in Omaha is important because unfortunately, you might be seeing them frequently.  Here are 5 tips from commercial roofing contractors in Omaha.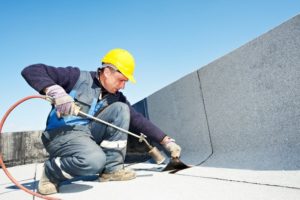 The Right Type Of Roofing
Commercial roofs are commonly made of steel, copper, and metal usually.  Tile roofing material made from clay, rubber or concrete can also be used but is not generally as popular.  Your trusted Omaha roofing company can help guide you through the process of finding the right roofing material for your roof.  They will help you choose a roofing material that offers the best performance and durability no matter what!
Find The Right Roofer
Finding the best roofers in Omaha can be a challenge when looking for roof repair in Omaha.  Whether you need a new roof or only minor maintenance, never try to do it yourself.  Not only is it unsafe for yourself, but you could easily damage roofing materials you are unaware of.  Always choose a licensed and insured roofing contractor who will stand beside you as they repair or install your roofing materials correctly.  Finding the right roofer is essential.
Care For Your Roof
While roofing materials used in commercial roofing situations offer many durabilities, a commercial roof should still be maintained and inspected just like a residential roof.  It's not enough to choose the perfect, most high-quality roof available; you have to give it some love, attention, and regular care and maintenance.
Listen To The Experts
Listening to your trusted Omaha roofing company is essential when operating a commercial space or building.  They are trained in how to identify any potential problems before they become major, or even overly costly.  If your contractor tells you that the most cost-effective solution is to replace your old roof with a new roof, listen to them!  They know what they are talking about.
Do Whatever It Takes
Remember always to do your best to keep your commercial roof in top-notch condition all year round.  Doing your homework and inspecting, cleaning, and maintaining your commercial roof is much work, but will save you much time and money in the long run.  Trust your roofing contractors, and do your homework!  The ideal roof is just around the corner.